About SERVPRO of Monroe / West Monroe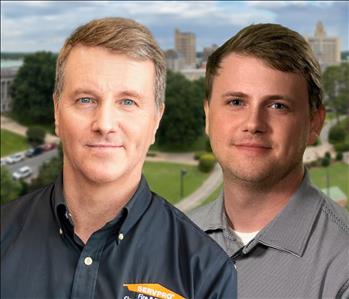 Donald & Corbin Legg
Owners of SERVPRO of Monroe / West Monroe
SERVPRO® of Monroe/West Monroe is independently owned and operated by D E Investments, Inc. We operate four franchise businesses located in Louisiana and Arkansas. We currently employ 75 full-time employees and have been in business since 1996.

We are proud members of the Disaster Recovery Team® with the ability to mobilize on short notice with experienced manpower and specialized equipment to respond nation-wide to large disasters.

D E Investments, Inc. currently holds a GSA Federal Supply Schedule contract (Contract No. GS-10F-0017X, Schedule 899-8) under the current Multiple Award Schedules Program offering emergency response and environmental cleanup services to the Government-wide community. Government agencies are invited to visit the gsaadvantage.gov web site for pricing and for more information.

SERVPRO® of Monroe/West Monroe is owned by Don Legg and Ed Aydlett. They have been co-owners of the business for the past 15 years.

Ed Aydlett has a Bachelors Degree in Civil Engineering from Virginia Polytechnic Institute and State University. He practiced engineering and worked in construction management; he has been involved for 27 years as a business owner in the building maintenance and restoration field.

Don Legg has a Bachelors Degree in Finance from the University of Louisiana at Monroe. He teaches remediation certification courses to the insurance industry in Louisiana and Arkansas. Ed and Don have both managed large loss projects for the government and city and state entities, as well as for the insurance industry.

Under Ed and Don's leadership the company has grown from an entry-level franchise to ranking in the top ten franchises nationwide for the past several years.
Insurance and Payment Information
For a stress free claims process, SERVPRO works with your insurance to help manage the insurance process and paperwork.
We also accept the following credit cards for your convenience:



Certifications
ASD - Applied Structural Drying Technician
ECTP - Employee Certification Training Program
FSRT - Fire & Smoke Damage Restoration Technician
OSHA - 10-hour General and/or Construction Industry Training Program
WRT - Water Damage Restoration Technician
Affiliations
Louisiana Claims Association